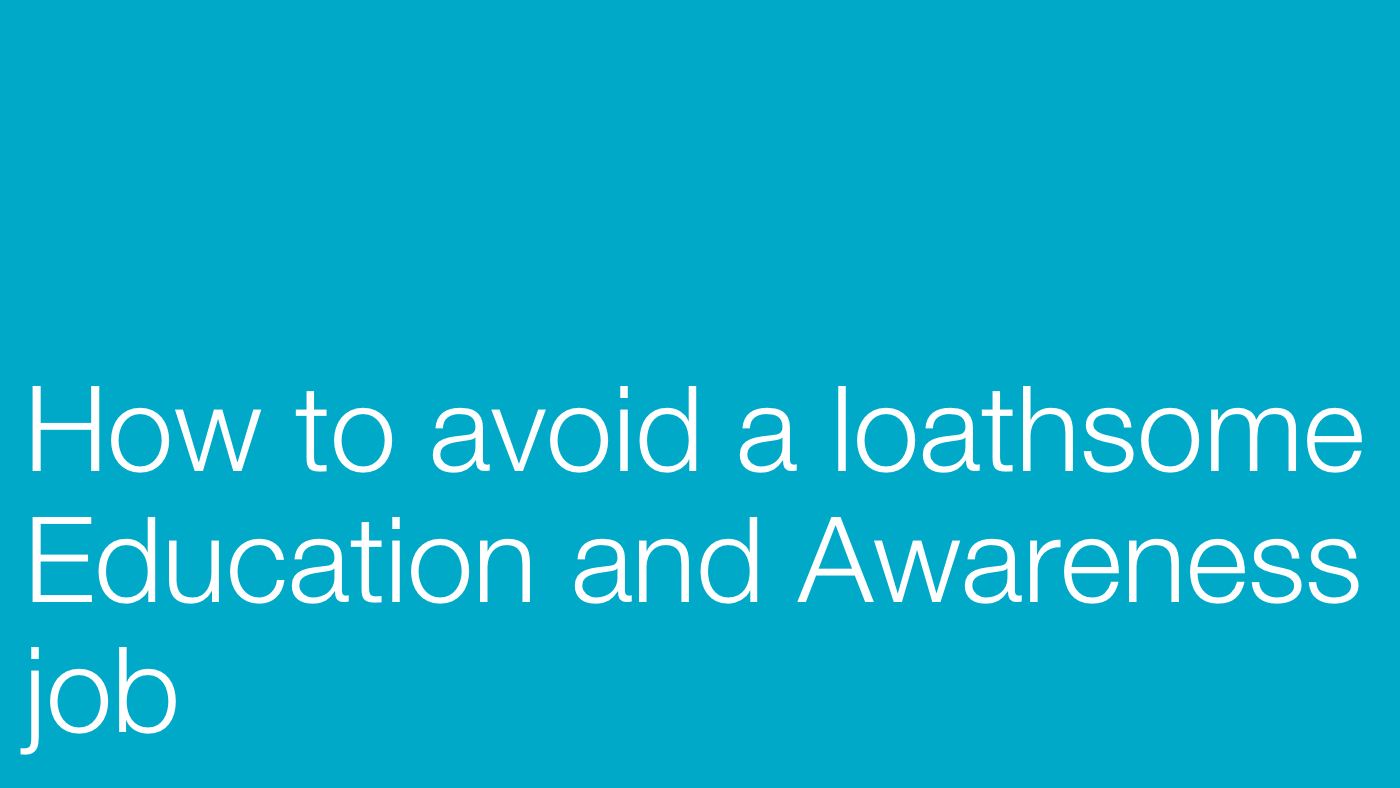 Who wants to do a loathsome education and awareness job?
No-one, right?
You only get one life and you spend roughly a third of it at work, so why wouldn't you want to have the most rewarding career and lead the best life you can?
To do that means being strategic whenever you're looking to make a move upwards or sideways to a different role. Not planning or knowing which direction you're heading in can result in months or years in the wrong position possibly unhappy or stressed until you get yourself back on the right path.
On average, people spend 90,000 hours at work
These days, someone's working life can stretch between the ages of 18 and 70. In that time you may never change career direction or, like me, you might take the plunge and get behind something new. Whether you stay in the same area or change tack, one thing's for sure for most of us: we'll hold a number of different jobs and roles throughout our lifetimes.
However many jobs you do for however long, if you want to get the most out of your working life you'll need whoever you work for to support you to be successful in your role.
Again, that's better not left to chance.
What does a great education and awareness job look like for you?
The first step can be working out what a rewarding education and awareness job looks like for you:
Do you seek financial rewards?
Excellent career prospects?
Personal development and a good work-life balance?
Support for your ideas and recognition from your peers and managers?
You could also take the long view and think of success as how well your new role will prepare you for your next education and awareness job.
Aim for success by measuring your results
Whatever role you want to go on to later in your career, your CV will be a lot more impressive if you've achieved something of note in your current role. And if you want to progress up the ladder, you'll need to show how you've succeeded in your previous job.
If a measure of your success is how you've changed levels of information security awareness, behaviour and culture you need to work in an organisation with the right conditions to help you succeed and your career bloom.
Unfortunately, not all employers provide the right environment for employees to prosper, and the stress and anxiety that can cause at work often spills over into people's personal lives.
We regularly meet CISOs who feel they're under immense pressure at work and report that their jobs are affecting their personal lives. Some are turning to drink or finding other ways to try to deal with their stress.
            12% of CISOs believe they would be fired after a breach – IDC report
It's hard to work under that sort of threat when there are so many factors you don't control.
As infosec professionals, we don't know what the future challenges will be, many Education & Awareness Managers we speak to say it can be hard to convince management that certain issues are important and secure sufficient resources to be do their jobs as effectively as possible.
We're a committed bunch who like to learn and want to effect real change in awareness, behaviour and culture – the human factor – but that can lead to long hours and burnout has been cited by several organisations as the main reason why more experienced infosec professionals can be hard to find. And if companies can't recruit, it creates more pressure on those at work.
When asked to rate their level of stress today and three years from now on a scale from 1 = low stress to 10 = high stress, respondents' stress rating is expected to rise to a new high of 8.08.
It's not all doom and gloom!
We're seeing the topic of mental health pop up at summits, such as at Black Hat 2018 last year and for those who of us who commit to a career in cybersecurity it's generally hugely rewarding. It's an ever-changing sector with new opportunities appearing all the time – and a career in information security is financially rewarding too, as this blog shows.
Want to be prepared and land the right role?
With over 20 years in the industry, I've attended numerous job interviews and recruited my fair share of talent too. Whenever you go for an interview, it should be as much about you interviewing them as the other way around.
Based on my experience, I've identified 5 key questions for you to ask at your next interview for an education and awareness job, and, crucially, why they're so important. To receive a free copy, click below.